---
From: Starla Cassmann
ON: 11/24/2023
Hello Gray,
We have our new scaffolds. Thank you so very very much.  I appreciate this more than I can express.  Great customer service.
Starla Cassmann
---
From: FRANK
On: 3/26/2020
Hi Matt,
Thanks for the quick response and for calling me back today. Attached is a picture of one of our scaffolding applications, in case you were curious.
---
From: Joseph Yoho
On: 9/1/2022
---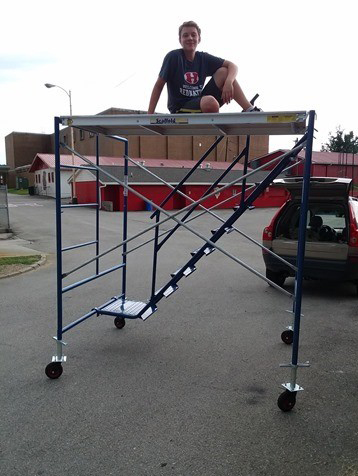 From: Alan Summers
On: 7/22/2019
Mr. Thomas,
I wanted to let you know that the scaffolding went together great, and we are very pleased with it all.
Here is a picture of my son on the tall frame with stairs.
Thanks,
Alan Summers
---
From: Steve Mekdeci
On: 6/6/2018
Hi,
I know it is a long shot, but I appreciate the extra effort.
Fingers crossed… I wish other suppliers were as good as your group… first class.
Thank you.
Steve
FROM: MARTY
ON: 11/29/2016
10 stars out of 5!!!
I appreciate the great product, great service, and the excellent price!
---
from: larry
on: 8/31/2016
Scaffoldmart and Gray Thomas,
Great product – Great Price… Excellent and timely shipping! Genuine and prompt service from sales person who was excellent and professional in all aspects of ordering and assisting us.
Thanks again! Great Job!
Sincerely,
Larry Hensley
from: Bill
on: 8/29/2016
I don't often feel compelled to offer my support by recognizing superior service, but this is exactly my intention in writing this note to you. I recently ordered a scaffolding tower and it arrived damaged, and after a pleasant phone call, all of the pieces were replaced with no hassle to me. I don't know whether the shipping company paid to replace it because all of that was handled by the professional team at ScaffoldMart. They were courteous and stood behind their word. I originally ordered my scaffolding from so far away because I wanted the best quality I could find, and their product exceeded my expectations. My construction project took less time because my crew had the best tools for the job. They were happy and I am happy. It is my pleasure to support ScaffoldMart in their effort to serve customers like me.
Bill Johnson,
Dallas, TX
---
from: Brad
on: 8/27/2016
The boat lifts have been a great addition to my business. They have allowed me to expand my service to my customers. Your salesman Conner Saiid has been great to work with and has given me great customer service. I plan to keep going to him for any other products I may need and will definitely be sending business your way.
Thanks, Brad (Burroughs 5 boat detailing)
from: norm
on: 8/26/2016
Hi Gray,
I definately like the quality of the wood/aluminum scaffolding planks I ordered, There was only a small blemish on one of the planks more than likely due to shipping, nothing major that I couldn't overlook. Other than that they will be used as intended. Thanks again for giving me a final price that included shipping over the phone. I'd have to give you an Olympic rating of 9.95 🙂
---
from: Mark
on: 5/6/2016
Hi,
I would like to take the time to thank you and your company for how professional my order was handled and how everything arrived on a very timely manner and was in perfect condition and the quality of your product was as described and better than expected. From your service from the sales department to the shipping department everything was handled very professionally. Will be a repeated customer and would highly recommend your company and your professional business.
Very satisfied,
Mark
from: Ryan Swindle
ON: 1/25/2016
Scaffolds have been a great asset to my business. Thanks for a great company to buy from. Look forward to future business with you
---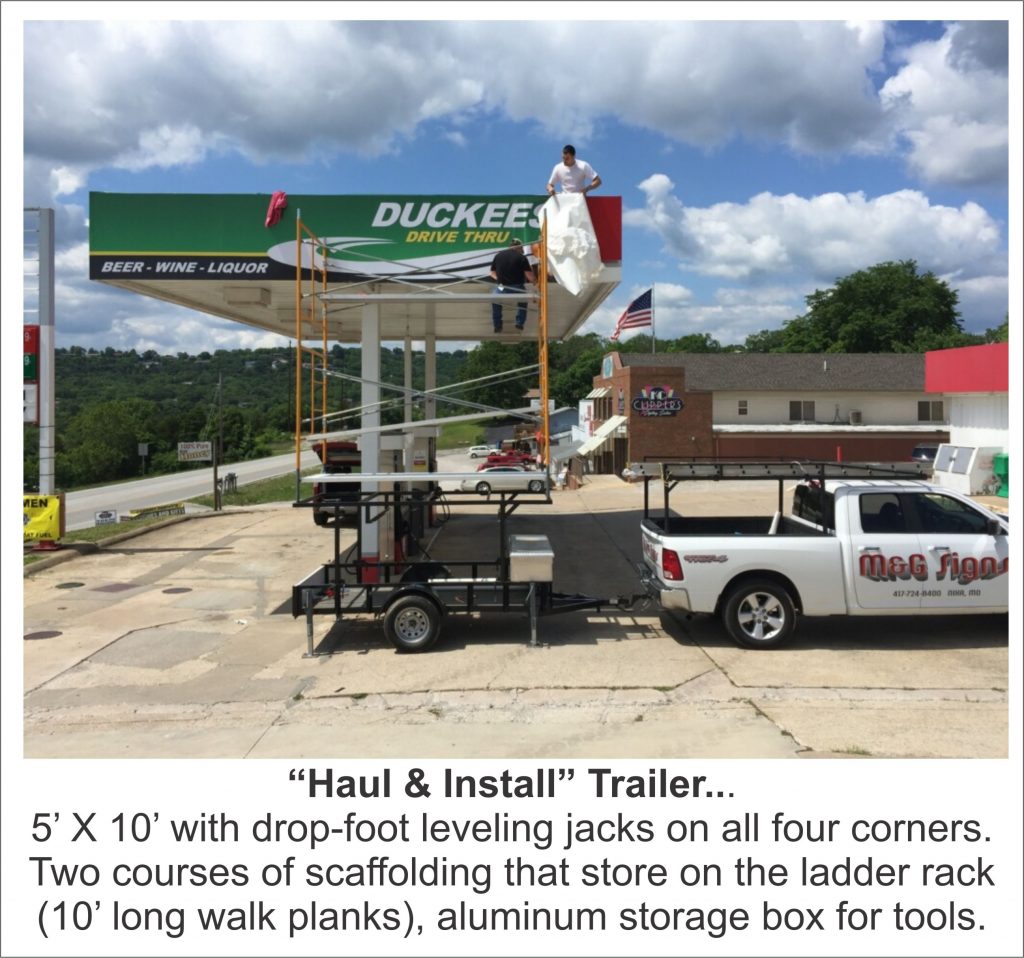 FROM: JONATHAN STONE
ON: 4/20/2016
Hi Gray,
I purchased 10′ scaffold sections and walkboards from you for this trailer I designed and built for another sign co. I thought you might like to see how your products are being used in creative ways.
Thanks again for excellent products, special deals and customer service !!!
Best of Success,
Jonathan Stone
---
from: Jon Finke
ON: 4/6/2016
Gray,
We have finished assembling the scaffold for the soffit project on my house – railings and braces in place, walkboards and scaffold planks in place.
I have been very pleased with the help I got from the sales folks in pulling the orders together and getting it shipped to me. ( I must confess that most of the frames in the photo are BiJax that I have had for years, but there are some SM frames on the far side, and the railings, decking, hoist and clamps all came from you.
---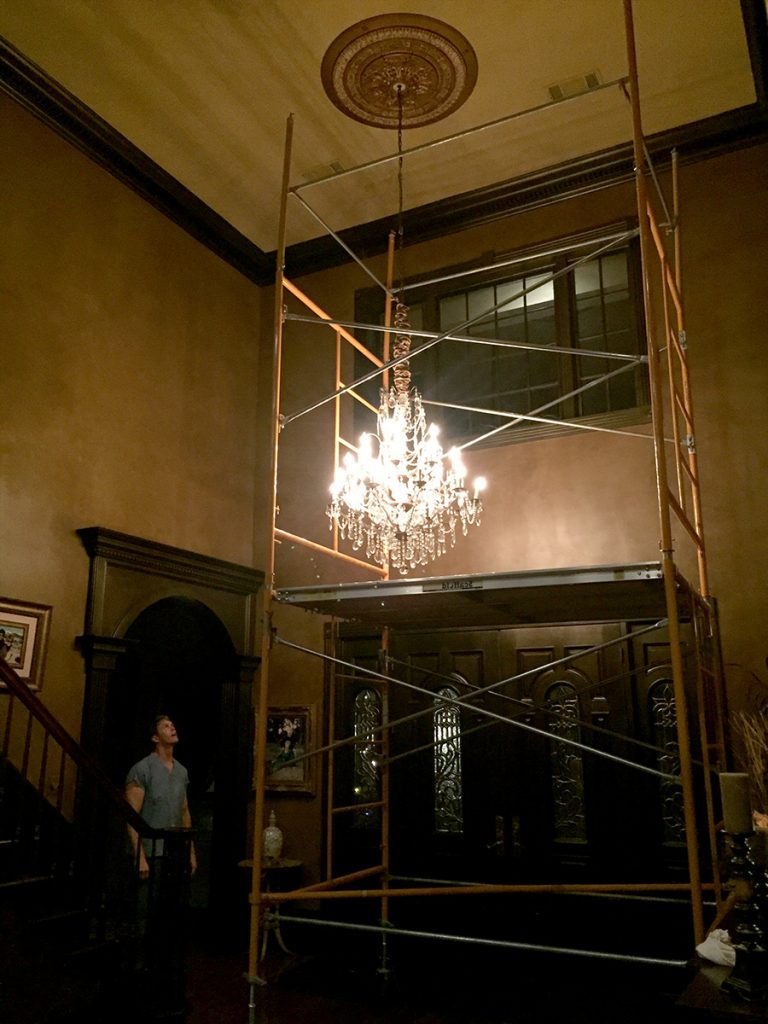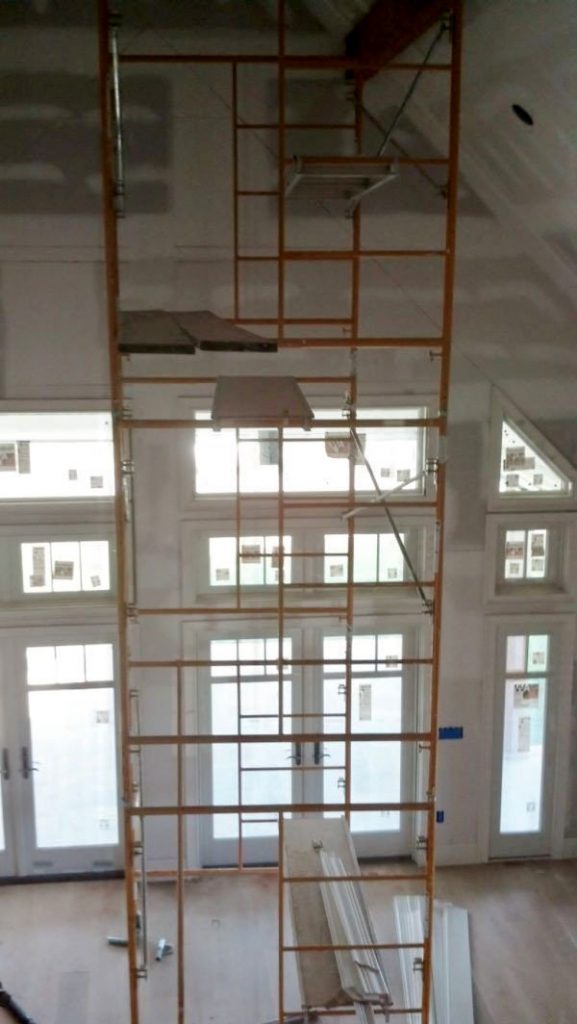 ---
from: Steve Camper
on: 1/25/2016
[Gray], all I can say is Thank You !!!! We are refinishing our building and at the start we rented a scaffold for about a week. We had to stop working on the project so we returned the unit. When we started back on the project again I thought I'd look around to see if I could find a used scaffold to buy instead of renting again because of other projects in the future. After looking at what was out there I happened to come across your site, what a blessing ! ( I hope this doesn't influence you to raise the price's ) but they wanted just as much for a used unit as you sold me a brand new one for !!!!! I was a little skeptical of what we were going to get but when it arrived I couldn't believe the quality of the unit for the price, outstanding value !! We are at a stand still at the moment because of inclement weather here in the north east, SNOW !. As soon as the weather breaks and we get started again I'll send you some pictures. Gary I want to thank you again not only for the product but for your help and knowledge in getting us the right unit .All the best to you in the new year !
Thanks from all of us here at Dover Auto
From: Chuck
on: 2/1/2015
Hi Gray,
I ordered the four (4) Aluminum/Plywood Walkboards to help complete my sidewall shingling project & house painting. We are do-it-yourselfers and we were tired of dealing with our old roofing planks that were to long, varied in thickness and moved while we walked on them. We were feeling unsafe and I decided to get the proper equipment. Your Walkboards fit my staging perfectly and it made the project go much, much faster. I know it was a small order, but you treated us like we was equipping a whole company. I got a call from one of your lovely assistants, and we discussed the best way to ship these Walkboards. We decided to ship them to where I work, since we get freight in all the time, and she helped in picking the freight company that normally delivers to my work address. The package was well put together and several of my coworkers commented on the quality and care you put into your packaging. Thank you for helping us complete our project before the weather turned.
Best Regards,
Chuck
---
From: Mike Capozzi
on: 10/27/2014
Don't have any pictures to share now, but I can tell you that I am really pleased with the products – the premium 5x5x7 bucks are excellent quality and we used them to lay over 3,000 blocks in the foundation as well for sheathing the framework. The masons were particularly impressed with the aluminum walk boards. – they are strong and much safer than the standard scaffolding board that can sometimes come off the end of the scaffolding.
Great product and excellent service/delivery and price.
Thanks,
Mike Capozzi
From: ED
on: 10/11/2014
I couldn't be more pleased! The price was great – the delivery was fast – and the quality is excellent. I highly recommend ScaffoldMart to any and everyone who, for any reason, is looking to purchase or even rent scaffolding. I did the math and realized that it was cheaper to buy scaffold from you guys than it was to rent it from someone else. When I am finished with this job next year, I will probably just sell the scaffold to someone else and get back a lot of my money since the product is so good – I can't loose. Thanks again. I'll definitely be doing business with you again
Thanks
Ed
---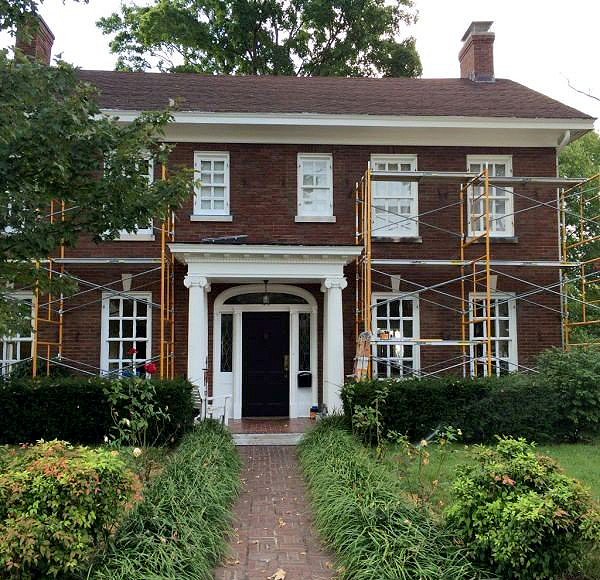 From: Jason
on: 10/27/2014
I should have purchased scaffolding a long time ago instead of renting. Thank you!
---
From: Richard Saul
on: 10/12/2014
Hi Randy,
Here is a pic of my recent scaffold installation.
My wife and I live on a hill where it is nearly impossible for most service vehicles to ascend on winter days. That means we can't get our chimneys cleaned and we burn a lot of wood. It has been a problem for years. Now, I have my Deluxe Internal Stair scaffold from Scaffold Mart. Everything about this 20 foot scaffold is impressive. It was swift to construct and the stabilizing clamps are truly the "missing link" as far as my past experience with scaffolding goes. It is super-stable. No more dirty and unsafe chimneys for this family. Thank you Randy, and thank you to Scaffold Mart for building a truly superior product. A picture is attached.
Best regards,
R.W.S in WV
---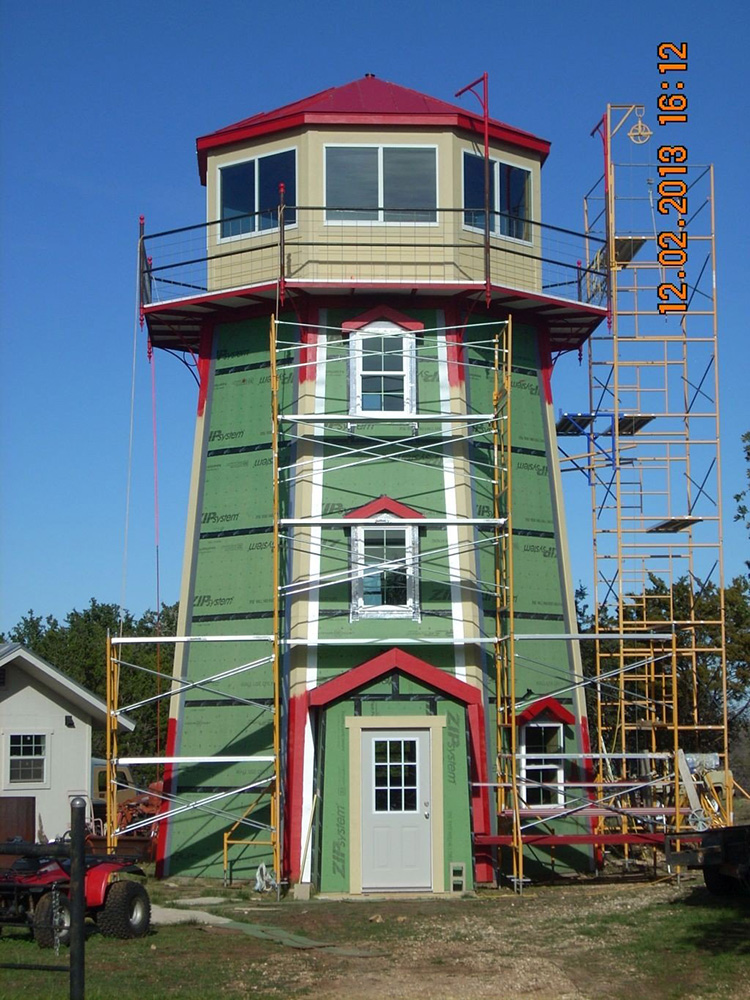 ---
from: Double G Resources
on: 3/22/2016
Good, stable scaffolding. And a reasonable price. I've had it stacked 3 high and it was solid. Thanks.
from: Double G Resources
on: 3/22/2016
Good, stable scaffolding. And a reasonable price. I've had it stacked 3 high and it was solid. Thanks.
---
from: Double G Resources
on: 3/22/2016
Good, stable scaffolding. And a reasonable price. I've had it stacked 3 high and it was solid. Thanks.
From: James C.
on: January 13, 2014
My job went great with my new scaffolding I am very pleased and will be ordering more in future already finished with job or I'd take pictures next time I use it I'll post pictures thank you very much for the time you took on the phone to help place my order.
---
From: Dan & Patricia K.
on: March 19, 2014
We received our scaffold in good condition and thought you might like to see a couple unique uses for your product. As we are a writing and photography team, the tractor cab installation was featured in Small Farm Canada last month. The airplane wing installation is today's project. The plane is a Murphy Maverick from British Columbia, Canada. Both jobs were so much simpler and safer to do with the assistance of scaffolding.
---
From: Doug B.
on: January 13, 2014
Couldn't be happier with our purchase from ScaffoldMart! The order was timely and was received in perfect condition with all pieces accounted for. As for functionality, it performs great. I have set it up in many different configurations already and compared to renting, it has already paid for itself. My only issue with the set is storage. I have a limited area for bulky items like this so I had to get a little creative. It works well for not tying up a particular area of the shop and can be easily loaded into a truck for transport to the job site. Keeps everything right where needed!
From: Mark B.
on: November 25, 2013
I am very happy with the scaffolding that recently purchased. It is very sturdy and easy to assemble. I also found the website easy to use. I was able to review the various configurations and get exactly what I needed. I compared your prices with local scaffold retailers. Even with shipping, the price per foot was cheaper than I could buy locally.
---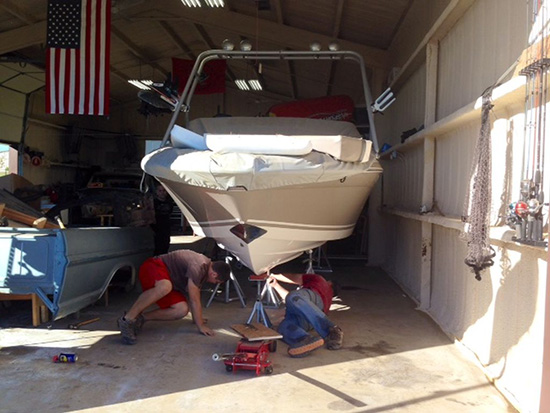 ---
From: Mike B.
on: October 16, 2013
Thank you for an affordable scaffold I couldn't have done my project without you.
From: Jeff H.
on: June 10, 2013
Thank you for the follow-up email, I really appreciate the "customer service" touch. I would love to be quoted as a testimonial. I have been using my new scaffold and really love it! I took some time to research before I purchased and I have to say that your company is great to work with and you have fantastic products. Very well-built and sturdy. It arrived much quicker than I expected and it was in pristine shape. I love how nicely it all fits together and I do not have to deal with wing nuts that I drop. I easily put the entire rig together by myself without any hassles other than being tired. I love the walk-boards as they are very well designed, strong and light to carry. Thank you again and I have already recommended you to several friends, neighbors, and passers-by who have stopped to admire my new scaffold (and my choice of paint colors on the house).
---
From: Roy K.
on: June 9, 2013
As a home owner faced with the project of painting my all wood frame home and the cost of hiring professionals, DIY seemed like an affordable alternative until I priced renting 3 sections of scaffolding. It didn't take long to figure out that if I could not get the job done in 5 consecutive days — I would be better off purchasing scaffolding and ScaffoldMart offered scaffolding at an affordable fee, answered my questions and, surprisingly, I received my materials within 5 business days. Considering the project and the weather, in the 6 weeks that I have owned my scaffolding, I have finished 2 sides of my home. Had I rented, returned re-rented, I I would have, by now, paid about 3 things what I paid to purchase the scaffolding, and still have two sides of my home to go!!
Way to go ScaffoldMart
From: David H.
on: June 9, 2013
With the personal attention you gave to me and my small orders, I'll say your service is fantastic. (I've also found the service of your carriers to be very accommodating). Your prices are better than many but, mostly, I'm a repeat customer because of your service. I'm sure I'll be back for more someday. Thanks much.
---
From: Thomas D.
on: January 15, 2013
Randy I got the stands and they are great, strong and sturdy. Even the hauler who hauled my boat and blocked it commented on how they were well made and perfect for the job. Thanks again I will probably order two more maybe next year just gotta scrape up the money.
From: Joel C.
on: January 06, 2013
"PLAIN AND SIMPLE" THE PLACE TO BUY YOUR SCAFFOLLING"
---
From: John P.
on: October 22, 2012
Hi Gray, FYI, have the Stands on hand now and we are selling like crazy – have sold 20 of them so far !!
Had great raves about the Quality.
Thanks for your efforts !!
From: Keith
on: July 06, 2012
For what I consider a small order, I found your service exceptional. I was contacted promptly about my order and really appreciated knowing my shipping costs in advance.
Better than all of that though, was when the scaffolding arrived. It was packaged very well and free of any shipping damage or other issues. The freight carrier did a great job.
The quality of the scaffolding was all that your web site described and more. Everything assembled easily and when completed the sturdiness and quality was evident. I can't say that I was surprised because it was exactly what your web site described. Your packages made ordering a breeze.
It has certainly been a pleasure dealing with your firm and you can be assured that I will recommend you to my associates in the trades.
---
From: Linda J.
on: June 14, 2012
I wanted to thank you for all your help in answering my questions and addressing my concerns. The fear of working with professional equipment to tackle a job sure had me worried. When I called to inquire about the scaffold equipment I was fortunate to talk with you, Tami. After explaining my project and expressing my fear of, could a women, me, handle professional equipment, my fears were put to rest. Thank you taking the time to listen. I would never continued on to speak with Randy if you hadn't been so nice. Randy, when you called me and helped me design which scaffold would be right for the project, I felt even more excited about what I was about to do. You were great in analyzing what I needed. Everything came packaged exactly as you said. I am sending a few photos to show how well we did. My neighbor came out to see what I was doing when he saw the big truck and offered to help me put it together. It really was easy as you said it would be. Thanks again for all you help. I can' wait to tackle the mold on the side of the house!
From: Don W.
on: November 30, 2012
I just can not believe the fast service form your company. I received a call yesterday from the transit company in Hagerstown, MD to arrange delivery. I will receive the scaffolding on Monday 12/3. Again totally awesome!!
---
From: David H.
on: November 12, 2012
I appreciate the follow up on my recent purchase with you, these days it seems that a purchase is just taken for granite by the seller, you have not. I have received the leveling jacks but have not advanced with my project in order to use them yet, but I have looked them over and am impressed with the quality just as you said. I again want to Thank You for the advise and will follow up with you when I actually use them, and I will try to remember to take a couple of photos to share with you. Have a Great Holiday and I will be in touch as the projects advances.
From: Paul T.
on: October 25, 2012
First time ordering & have never had better service. Most friendly & helpful People @ your order desk.
Shipping was beautiful ( R&L transport) driver was great & very helpful.
Give them a shout for me.
---
From: Meridth H.
on: October 18, 2012
I has been a long time since we last communicated. I just wanted to express my profound thanks to you and ScaffoldMart for the wonderful service rendered to me. It was truly a pleasure doing business with you and receiving the goods ordered in a timely manner.
You are providing a excellent service to the global community and I just want to encourage you to continue. When I can stay in Nevis, in the west Indies, and order goods from you and receive them within three weeks, that is wonderful and it speaks well for your establishment. I have already recommended your business to one my associates and will have no hesitation in recommending you to others in the future.
May GOD continue to bless you business as you continue to serve.
From: Michael N.
on: October 15, 2012
Thank you both again for taking my call at home last Thursday and fulfilling my order so quickly.
Items received today in good order.
---
From: True American Woodworkers
on: August 06, 2012
The scaffolding was exactly what we needed and works great. One of the frames had a little bend on the vertical leg but didn't have time to worry with a return. Don't think it will hurt a thing. You guys seem like some good old southern boys that was easy to deal with just like us. I will call you if we need anything
in the future thanks again.
From: Phil B.
on: August 06, 2012
Hi Gray, I just wanted to write a quick note back to you to thank you and your company for all your help in my scaffolding purchase. I've thought of giving a call personally, but haven't had much time, as I'm very busy lately with my project I bought the scaffolding for. I can't say enough about it. It's one of the best things I ever bought!!! It's made my project much easier so far, and will be more than helpful with the rest of it!!! I can't say enough about it!!! It's very strong and durable, and I feel extremely secure working on it. I'd also like to thank Randy for all his help when I called to make the purchase. He couldn't have been any more helpful. I'm glad I went with your company. I have absolutely no regrets whatsoever!!! Thanks so much.
---
From: George J.
on: May 21, 2012
I've been extremely pleased with the scaffold. Best money I've spent in a long while. It has been a tremendous help in scraping the paint off my house, especially under the eaves. I'm glad I got the wheels too. Didn't think I'd have much use for them, but I actually can roll the scaffold to many parts of my yard, which sure beats breaking it down and re-assembling. Let me also say that I've been able to put it to good use without needing any extra labor, which unfortunately I don't have.
From: Dan
on: May 10, 2012
Thanks for the opportunity to do business with your company. I found your web site very helpful to order scaffolding casters, cross bars, and pins. Since I am not familiar with the jargon nor components of a scaffolding structure, I watched your videos to make sure I had it correct. Your site and videos were the crux of my order with your company.
---
From: Bill
on: May 09, 2012
When I first looked at Scaffold Mart I was taken back by your low prices. I was a little concerned about your website, it is difficult to navigate. However after researching your company, I found great reviews. When I contacted your company I was surprised with your over the top customer service. Low prices can indicate low quality, however when your product arrived I found just the opposite. Your products are excellent. I will be ordering from Scaffold Mart the next time I need Scaffolding.
From: Bill K.
My scaffold order arrived today in good shape, it exactly fits what I need and the quality is as advertised. Thanks for prompt shipping! A good deal is great but only if the company behind it has the high standards ScaffoldMart seems to have. It's been a pleasure doing business with you.
---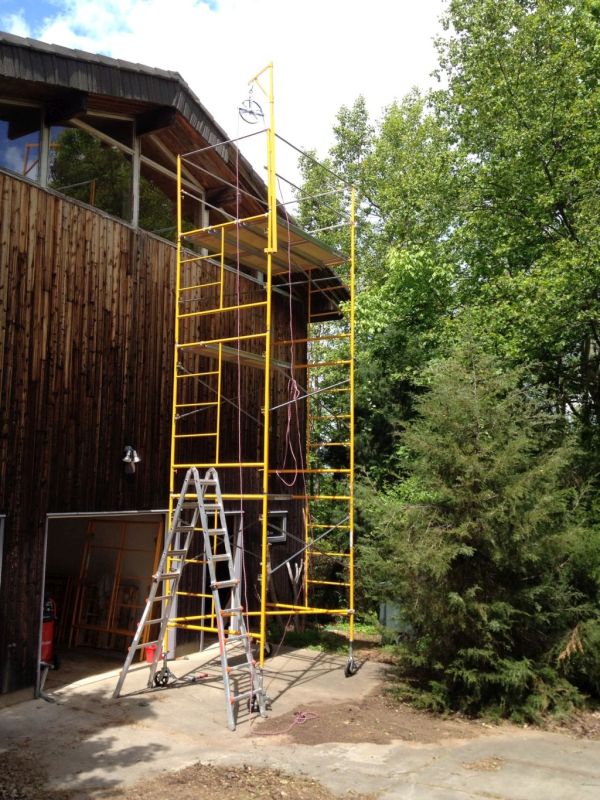 From: Jim T.
I promised to send a photo once I put the scaffold back up, so here it is. Working from it is so much better and safer than a ladder.
Thanks for your great service in getting all this together for me.
---
From: Rebel with a Camera
on: 2011
After much deliberation I chose to buy more scaffolding for a project I was working on. Why would a photographer need scaffolding? Well I don't need it for photography at this point and am instead residing my house because I am rather a jack of all trades. Surprising to many I am very good at many things but choose to shoot photographs because I enjoy it the most out of all the things I have abilities in. There is future image plans for the scaffolding though. We are slowly venturing into video production and are planning on having the scaffolding on hand to hold lights high above or to get a higher perspective for a camera angle.
I searched the local area in Austin for scaffolding and came up rather empty except for one place and it was rather expensive. I trolled Craigslist for months trying to find something at an affordable price but scaffolding is far and few between there and the people who do have it think it's value is more than I was willing to pay.
So Online I went and visited many website obsessing about scaffolding, pricing and shipping and one place kept coming to the top of the heap; Scaffolding Mart. Never have I been to a website for tools and construction machinery that was so ridiculously excited about what they sell. Someone spent a good deal of their life going on about the wonders and magic of scaffolding. Literally there are 50-pages of text about their scaffolding and how magical it is and they went into great detail about the quality and the manufacturing. They posted videos of the construction of some of their scaffolds, braces and walk boards which were elaborate and detailed. These people appear to eat, sleep and breath scaffolding but it almost sounded too good to be true.
So I took the plunge and bought the scaffolding that I needed. With a purchase over $600 they shipped the entire order for free. I was very skeptical because it had to be hundreds of pounds of steel that was being shipped to me. They shipped using Yellow-Roadway, a logistics and trucking company and estimated that the order would be to me by the middle of the following week.
Yellow-Roadway was kind of a pain to deal with. They gave conflicting stories about where the freight was and when it would be delivered. Their phone support was the most polite and helpful sounding group of people I'd ever spoken to but what they said on the phone what actually happened were two different things. For two days I waited for the promised truck to come and drop off my scaffolding but nothing showed. I called at the end of each day and they promised it the next day. At the end of day two I asked if I could just pick it up at their local hub. I spoke with the local hub over the phone and arranged to pick it up at around 6 p.m. the next day, but he said to call about an hour beforehand so they could get it off the truck.
The next day at about 5:30 I called and said I wanted to come and pick up the freight in about an hour. The tired sounding fellow told me I couldn't because there wasn't anyone left at the hub to unload it. This was the same fellow I had talked to the day before and arranged the pick-up with so I was somewhat annoyed and gave him a small piece of my mind about how non-logistical this logistics company was. His manager wasn't there so I told him that I wanted to see the scaffolding at my home the next day and not a day later. I told him this in such terms to motivate him to actually make something happen.
The next day it showed up. 750 pounds of steel and wood found its way off the truck and into my front yard. I thanked the driver and sent him on his way without incident.
I looked over the Scaffold Mart scaffolding and found it was very nice, simple to put together and seemed to be made to take a lot of punishment. I don't know how they sell it as cheap as they do. It really is very nice. I'm sure my tiny order was probably not even worth sneezing at but I called them on a couple of occasions during the shipping debacle and while they didn't always answer the phone they always called me back including a call after hours. I was very impressed that they cared enough to call. It was refreshing after dealing with large corporations for so many years who say one thing and do another. I would definitely give a five out of five rating to Scaffold Mart for quality of their product and support that was top notch.
Yellow-Roadway, on the other hand, is in desperate need of a more accurate tracking system and logistics that are actually logical. I was very surprised at how little people seemed to know about what was really going on. But seeing as the shipping was free, what can I say? At least I didn't have to pay for the poor quality service. As a side note, has it ever bothered anyone else driving on the freeway that the Yellow-Roadway logo is orange?
---
From: Dave S.
on: January 24, 2012
I apologize for for the timing of my reply. My wife and I completed the job on the foyer, great room and dining room in late June 2011. Please accept our thanks to you, your staff and company. Quite frankly, without the scaffold, I really don't know how we would have accessed the ceilings safely. Looking forward to working on the exterior siding in the spring of 2012. I'll be in touch as we'll need a third level with adjustable jack stands for the work.
From: Rachel
We received our scaffolding this morning. It is PERFECT!!! Thank you so much for all your help! I really appreciate it!
---
From: Thomas G.
on: January 24, 2012
I would like to share with you some of the reasons I am delighted with my scaffoldmart.com purchase. You are welcome to use my testimonial as you wish. Thanks a bunch for taking care of that missing part.
Cheers,
Tom

I had specific functional and safety requirements in mind when I began my search for scaffolding sets. I knew I would be working 10, 15, 20 feet above ground, and my (and others) well being would only be as good as the foundation. The first place I checked was in local Internet resale listings. Unsatisfied with the plethora of used, abused, and incomplete sets that I found I decided to search for new equipment. Fortunately for me the first site that I found was scaffoldmart.com . I immediately located exactly what I was looking for in their complete, no-hassle, configured packaged sets.

After checking their prices I was a bit surprised and excited to find they were actually priced about the same as the used (incomplete) sets that I found elsewhere.
Continued Thomas G.
Here's what sold me on scaffoldmart.com products and my decision to buy a 2×2 rolling package:
1. The 16x over-engineered failure rating. Safety is #1.
2. The safety railing included in the package. I can't tell you how many times I've worked on top of scaffolding without safety railing simply because we didn't have them; that's a bad practice I will not have to repeat. Again, safety is #1.
3. Painted heavy duty tubing interiors. A sign of unrelenting product quality.
4. Friendly and knowledgeable sales staff who gave as much information as needed and everything I asked. They are scaffolding pros without a doubt.
5. Price was unbeatable. And with my package, freight was free to my location halfway across the country. To get everything I wanted on both safety and quality requirements in a new and complete equipment package for about the same price as used scaffolding made the decision a no-brainier.
Yesterday, the scaffolding arrived; even a few days earlier than expected. Upon inspection, I knew I had made the right decision. Quality construction, heavy galvanization, exterior AND interior painting are exactly as specified. I am very pleased that I chose the walk-through frame WITH integrated ladder. This design gives more options for intermediate platform levels and is very rigid. I'm also very impressed with two features I have not used before on scaffolding: the safety locks for securing cross bracing, and the spring rivets on the stacking pins. Combining all of these features plus the integrated ladder with walk-through make these frames above and beyond any competitors I have seen. Top these off with excellent, high ply count plywood-aluminum decking, and well designed (and mandatory, in my opinion) safety railing. I have found scaffoldmart.com and their superior products and customer service to be my last, and best choice for scaffolding.
---
From: Chris E.
on: January 18, 2012
We LOVE it! It's perfect for what we needed in our TV production studio. Prior to it, we could not safely adjust our lighting.
WE ARE VERY SATISFIED.THANK YOU!
From: Bob L.
on: December 27, 2011
I purchased six boat stands for my 40′ Silverton Flybridge. All the guys at the Yacht Club were impressed with the quality of the stands, and in particular the hot dipped zinc coating. Since the boat is still upright on land, I must conclude that they are doing their job just fine!
PS–The ordering process and shipping details were flawless—Thanks again, a belated Merry Christmas, and a wonderful New Year to you all, or should I say, y'all.
---
From: Brian
Wanted to drop you a note and tell you that Randy was extremely helpful to us! Since we knew nothing about scaffolding, we told him what we wanted to do and needed his help to get it accomplished. He took us step by step on the best way to approach our project, laid out exactly what we needed and shipped it. We received our order three day later and every piece was perfect and assembled just like he ;said it would. My staff is very impressed with ScaffoldMart and how Randy helped us.
AND, another great thing about doing business with ScaffoldMart was the price. I called around to many other scaffold wholesalers and manufacturers their prices were not even close to what we paid. I was amazed how much lower ScaffoldMart was compared to all the other companies.
If is not very often that you find companies who can sell quality, good service and have excellent pricing, Most companies are doing well if they can accomplish 2 out of the 3.
Keep up the good work and please feel free to have anyone call me about my experience with ScaffoldMart They will enjoy the friendliness, knowledge and professionalism in doing business with ScaffoldMart
From: Valerie H.
on: September 01, 2011
We needed it to put up a large garage and would not have been able to do it without it. We bought the safety package and needed all of it. We depended on those railings to hold us in odd positions and they worked great. The removable chain on the one end allowed building material through and also hold buckets to put our drills and tools outside of the platform. We used clamps and rope and made make shift pulleys on those railings to get building material up there and with just two people your scaffolding allowed us to get it done.
The materials were not that heavy but going up 16 feet high two people couldn't do it with ladders doing a Quonset building. Your scaffolding saved our summer and made it possible to do the building. Your scaffolding with 3 planks two on the upper and one on the lower worked fantastic for us. They were strong and easy to move around yet very stable.
Once we lubed the wheels the opening and closing of the brakes worked great and were very secure. We feared for our safety working so high up because we are not construction workers by trade but with that safety package we felt safe and secure.
---
From: Bo
on: January 13, 2014
First off….I'm very pleased with the 4 sets of scaffolding I bought from you guys, I did however come up 1 set short (literately) on my job and had to go and find another set "used" to get me at the right height I needed to be. (My initial height estimate was off, my fault) I was also curious if my order should have included more Scaffold spring rivets, or some other kind of pin, so I could safely stack the scaffolding, I went ahead and bought enough pins so I could stack 5 sets, but wouldn't the spring rivets work better, so I didn't worry about losing pins when tearing down the scaffolding?
Anyway here is a few photo's of its first job, getting broken in (don't worry! Scaffolding was tied, and secured at the top, so it wouldn't tip over) We had to rebuild the Wash-collar of the chimney, and tuck-point the top. It worked out great.
---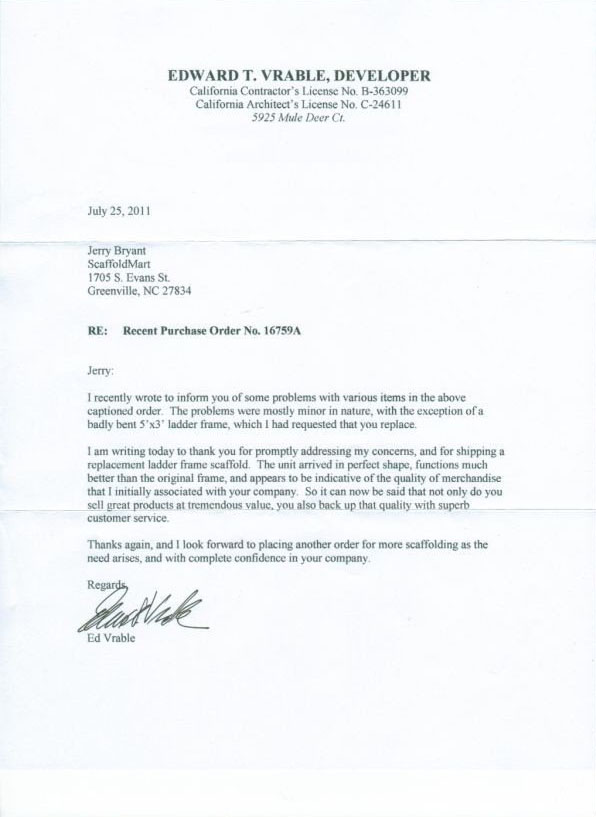 From: Dave S.
on: February 23, 2011
In a phrase …your company has exceeded my expectations! If for nothing else Zirk fittings on the casters, your product screams quality! My goodness, with a basic maintenance routine this kit will last a lifetime.
I've had many experiences with contractor grade scaffolding over the years …some better than others. I can honestly say to anyone reading this, you can believe everything in the Scaffold Mart descriptions. Hands down, the highest quality product on the market I've experienced ….particularly for the do it yourself homeowner. Exceptional scaffold kit for the price point.
I purchased this kit mainly for dry wall screw pop repairs, and painting of the great room ceiling and walls in our home. However, I can see now I'll make plenty of use on the exterior of my home as well. Of course this means you'll have a returning customer for accessories and additions to the scaffold tower for exterior use. Thank you, for providing a premium American Made product line. It's a good thing when purchases work out much better than you originally planned.
Thank you so very much. And, please thank everyone from the front office to the craftsmen who build the product line for your company. It's very apparent in the quality of your products that everyone there enjoys what they do.
---
From: Mike S.
on: June 26, 2011
I would love to be added to your comment list. I am very pleased with my recent purchase and want to thank you and Randy for such a great product. I had rotator cuff surgery and am out of commission so today my son and his friend put it together to demo my wood chimney chase that was rotting. It was 18' up there and they did a great job, for the first time installing one, and only took them about an hour. It is top quality equipment and I am so glad I contacted ScaffoldMart to order it. It is a very safe and well built product, it went together perfectly. We bought it for our company but are using it for personal items at the moment. I am sure we will get many years of good use out of it. I did check with a rental company and for the same setup it would have cost me about $2800.00 so I saved about a $1000.00.
Thank you for being there for all interested parties out there and not just contractors.
From: Tim M.
on: March 29, 2011
I just wanted to send a quick note to let you guys know how pleased we are with our purchase. Everything was exactly what we were looking for and the price was outstanding. Being a extremely large facility, and having a good amount of things requiring attention 30 plus feet in the air, a lift was needed, but not in our price range. We were referred to you guys, as an alternative option, and are glad we pursued it. You and Tammy were great in communication and offering invaluable advice/ expertise. Unfortunately, due to such a great purchase, we don't foresee using you guys in the near future. However, you can bet that the next facility we build, you guys will be the first call. Also, please feel free to use us as a reference to any and all, as we've been happy to speak about Scaffold Mart every chance we get. Thanks again and best of luck!
---
From: Edwin M.
on: June 08, 2011
Thanks again for the help with my boat stands. Its not very often that we have orders come in EARLY. Everyone at ScaffoldMart has our thanks and admiration!
From: Chris B.
on: June 08, 2011
I'm a little reluctant to offer praise because I don't want my competitors to know what a great deal your boat stands are. But credit where credit is due. A fine product, a fine value.
Chris B.
Anchors Away Boatyard
Hampstead, NC
---
From: William C.
on: April 05, 2011
Jerry, I want to thank you for your help on our scaffold purchase. Prompt shipment and customer support is what it is all about. I worked construction for 40 + years and I find that the scaffolding is prime (excellent) quality. Again I thank you. I look forward to future business.
From: Tim T., of the J CIV Dept of Navy, DASN C4I
on: April 01, 2011
I wanted to thank you for your prompt response on my recent scaffolding order. I actually picked up the order at the shipper's location in Baltimore so I could use it over the weekend (last weekend).
I'm very pleased with the quality of your product, accuracy of my delivered order, and greatly appreciate the kind customer service. The only problem is I now want more scaffolding. I'll submit my next order when my finances catch up.
Thanks again and have a nice weekend.
---
From: Doug B.
on: March 31, 2011
I've spent most of my time in Texas since ordering the walk boards, so have had a chance to install them on the boat lift. However, they arrived with lightening speed, trucking company called to set up delivery less than 36 hours after I placed the order with you guys! No damage–beautiful product. I will send pictures when I get the chance to install them on the lift.
From: Greg P.
I am writing to tell you how pleased I am with Scaffold Mart. Monday of last week I found a local scaffolding rental company on Craig's list selling used 6′ scaffolding. I called to see if they also had any 5′ pieces. After a lengthy wait I was told what I wanted would cost me "about $1000.00" his tone almost made me feel guilty for calling him .
Long story short on Tuesday I placed an order with ScaffoldMart and on Friday shiny new scaffolding was at my front door. Not used stuff but high quality equipment at about half the price of used. Keep up the good work !!
---
From: François C.
on: March 08, 2011
The scaffolding was delivered yesterday, on time, complete, and in good condition. Thanks for your time and your efficiency.
From: Fred K.
Just wanted to let y'all know how much I appreciated doin business with ScaffoldMart. From Randy's help with the placing the order and Tami's help with the shipping information. It's very hard to find the kind of professionalism that y'all provided to me. Everything came in without a hitch, and all the pieces fit perfect.
---
From: Doug
Hi Randy (aka Ransom…dang if that don't sound like a true Southern name, and a very distinguished one at that!)
Just a quick note to let you know that the 10 SB-3's arrived today, in perfect condition and certainly appearing to be a top quality product.
The entire experience with your company, from ordering right through to the delivery today, including the communication with the delivery dispatcher and the driver, has been first class, and I just want you to know how much I appreciate it. I would not hesitate for one minute to recommend your products and your company to a family member or the closest of friends.
I'm confident that the experience with the back-ordered SB-2's will be just the same. Do let me know when they are ready to ship, as we really do need the taller stands at the earliest opportunity.
From: Pat H.
I just have to say this. Locally I would have almost paid double for scaffolding I needed, and I would have had to pick it up. In California, jobs are sparse and spending money on safety is a luxury here. I saved a ton of money on your product, and it was delivered to my job site! I am so impressed. Even with a slightly damaged part and a wrong part because I ordered outside of your package deal there was some confusion. Instead of making me feel bad about and hassling me, you guys just deliver honesty and good service. I will be adding to my scaffolding down the road, but I will know right where to look! scaffoldmart.com has my business, and if others go elsewhere, they better not come crying to me!
Thanks for correcting the order without hassle. I love my scaffolding and it worked with other scaffolding that I had.
---
From: Erik R.
First off, I don't have the flowery wording your looking for to post on your site, however I wish to convey my experience with ScaffoldMart anyways. I was completely satisfied with your service and your products. I was under a tight deadline and you guys were able to get me everything I needed in less time than anywhere else I could find. Not only was your service expedient, but your scaffolding, stages, pins, braces and jacks are top-quality. Thanks for helping me get the job done right, and on time.
From: David D.
I would like to say my experience with ScaffoldMart was clean/fast/honest with all my amateur questions answer with clarity before i bought. I bought the 26′ deluxe and it was up in a few hours after its prompt delivery. My friend Robert, who was going to repair my chimney, admired the quality. So didn't the building inspector. I admired the price which turned out to be significantly cheaper than if I had rented. More so when Robert contracted the flu and the scaffolding sat idle while he recuperated, 7 days. Now Robert is going to stucco an addition. The scaffolding is assembled and can sit there free of fees until we get to doing the "mud and mesh". Consider this an A+ recommendation.
---
From: Doug
Well, since the purchase was boat stands, not a whole lot to see and not much of a project. Suffice to say the boats are all upright and well supported, which is certainly critical to safety during storage and Spring fitting out. I remain very impressed with the quality of the stands, in particular the galvanizing and the fine machining of the acme thread on the adjusters. You really can spin them almost the length of the thread with just one spin!
From: Richard C.
I really appreciate the fact you have created such a competitive, quality, firm to serve folks such as I. You can rest assured I will be back for more products and I will recommend you to all my business associates. Thank you, as well, on making sure the customer is satisfied and the product arrives as promised.
---
From: Brian
You recently sold me two walk-boards, casters and some bracing. I want to share my story and Thank You for your products. I needed to paint my tall room for my house before going onto market. I had some scaffolding I used when I repaired and painted the place. My homemade walk-boards were recycled into other projects. I looked at the cost of a new extension ladder and decided it was cheaper and safer to upgrade my beat-up scaffolding.
I loved the new walk boards. I feel very confident with the strength and they are very easy to move. The new bracing got the supports to the right distance and the casters made my 13 foot high assembly very easy to move. I have included a picture showing the walk-boards and me cutting in paint at the ceiling line.
---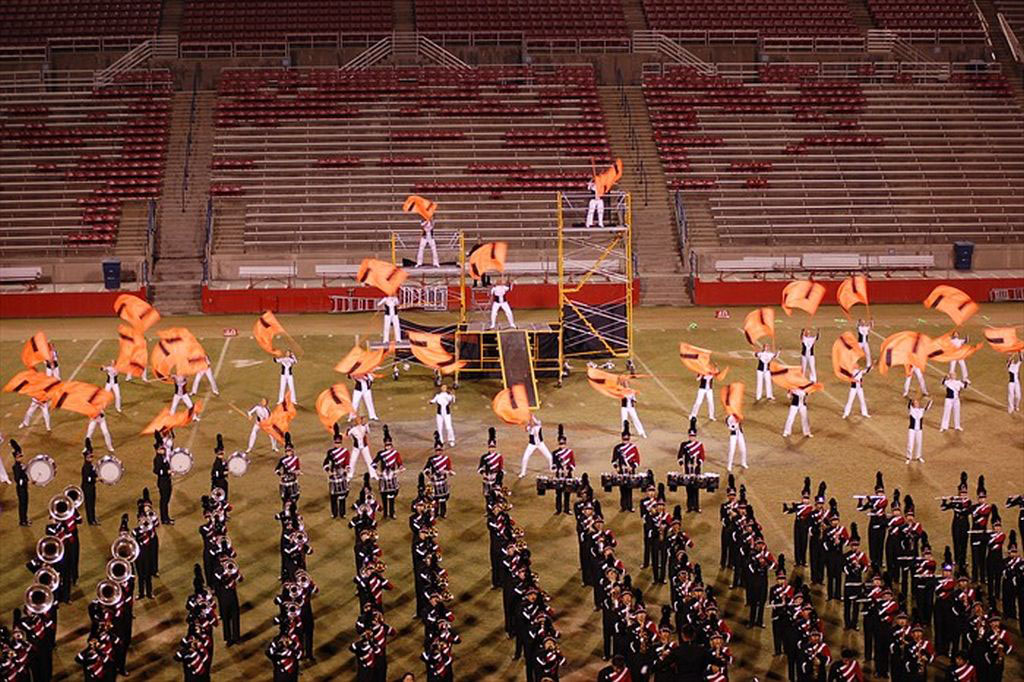 From: Seth J.
Thank you so much for dealing with us earlier in the fall. We were very appreciative of your business. In the end the Scaffolding worked out fantastically.
This is a photo of one of our performance so that you can at least see what we were crazy enough to do.
---
From: Alexander G.
Our new tower arrived today and we've added it to the set we bought from you a few years back. This is just a note to tell you that this is a terrific value and we like to point all of our business acquaintances in your direction. A good deal all around.
From: Brutis
I made a video of the scaffolding installation – time lapse. Check it out. You can see other videos of the project at the BrutisBB You Tube channel.https://www.youtube.com/embed/HbqlN2bMtqQ
---
From: MJ
The Scaffolding is GREAT and it came when we needed it. Thank you so much for a great quality product and great service.
From: Ron D.
Thank you for your speedy response! The grouser arrived last night. I've been in the construction business for 26 years, and you guys sell the absolute top of the line scaffolding anywhere and at the best prices! Your customer service is the best!!
---
From: Steve B.
Thank you for the service after the sale. This is without doubt the most important reason to do business with your company.
Even though I purchased a small quantity by comparison to other people, the treatment was the same as a large customer.
Accurate information, prompt follow-up, and the best customer service in the industry.
Please use this information to share with customers that may have any doubt about purchasing from a company out of state, over the Internet, or may have had bad service in the past.
Hi Jerry and the rest of you guys, I got my order today and i wanted to tell you how satisfied i am with your product. I've been in the drywall business for 30 some odd years and been on scaffolding more time than i want to remember, I've always borrowed scaffold from contractors in the past because i don't use it that often, maybe 3 time a year. I was reluctant to order important products like this over the Internet but i am very satisfied with your product its the same quality as any other scaffold I've used in the past. Thanks for not letting me down
---
From: Jim M.
Just wanted to tell you that we received our scaffold order, everything arrived in perfect condition! And your selection of "R/L" Carriers was outstanding the driver Johnny was very helpful with off load. "Your Product is the best I have ever used" Being a Maintenance Engineer, for General Motors after our Military Careers I have used many "other products" and they do not measure up to yours.
From: Stephen
I felt compelled to drop you a line about your company. It is impossible to find a scaffolding package, new or used, that compares with the product that you offer. And when you consider your customer service, ease of ordering and incredible delivery services there is no other choice but Scaffold Mart. Please keep up the great work.
---
From: FRC
Thank you for the excellent service. You took the time to listen, understand, and then recommend what I needed (and didn't need) to get the job done. You wrote and patently amended my quote three separate times making sure I didn't miss or need anything else. I placed the order with you on Monday morning, Tammy provided me with the PRO number on Tuesday morning, and the scaffolding was delivered that Friday. The truck driver was great. Backed his rig off Main Street and into the driveway so we wouldn't have to carry the 2000 lbs of scaffolding too far. He impressed me so much I tipped him! Only problem I had (not your fault) was a bent hook on one of the walk boards. We made note on the bill of lading with the driver, called you, and I had the replacement hook in two days. No hassles. No questions. Thanks for the fast turn around time on that.
The product is first rate. Thank-you for recommending the ScaffoldMart 7′ (379AP7) and 10′ (379AP10) Super Premium Extreme Duty Aluminum Plywood Walk boards. You were right, they are the way to go. Light weight, sturdy, and everything is replaceable. Glad I listened.
I have to admit I was a little hesitant on spending 3000.00 plus dollars sight unseen, to folks I didn't know, on products I'm going to trust my safety with, but I have absolutely no reservations about you or the scaffolding. Thanks again for all your help. If you're ever up North stop by, the beer's cold and I've got an extra paint scraper!